I thought I'd start a thread on my own little "homebuilt". It started life as a clapped out 1990 Murray GT:
It's not really a GT, but it's also not really a Ride on. It kind of half steps between the two classes. It's about the size of a GT, but uses belt rive like a Ride on. The transmission is belt drive, but it's also a peerless 820 (rated for ground engaging attachments). It's got a briggs, but it's the 18hp opposed I/C version. Murray was also mostly in it's death throws at this point, so this was a revamp of their earlier GT's that had a vert shaft engine. New sheet metal on the nose, a little different drive arrangement and get it out the door to sell it.
I picked it up cheap and once I had it running reliably I started using it around our house:
That was dragging a palletaround the freshly dropped topsoil to level it out and prep fro seeding. Worked pretty good!
Worked ok, but I needed it to do more so I knew changes would be needed. The frame was a stamped pan type, even though it was thicker than a ride on pan frame. Well, the frame is everything, so I tore it apart andbuilt a frame out of 1/4"x3" stock: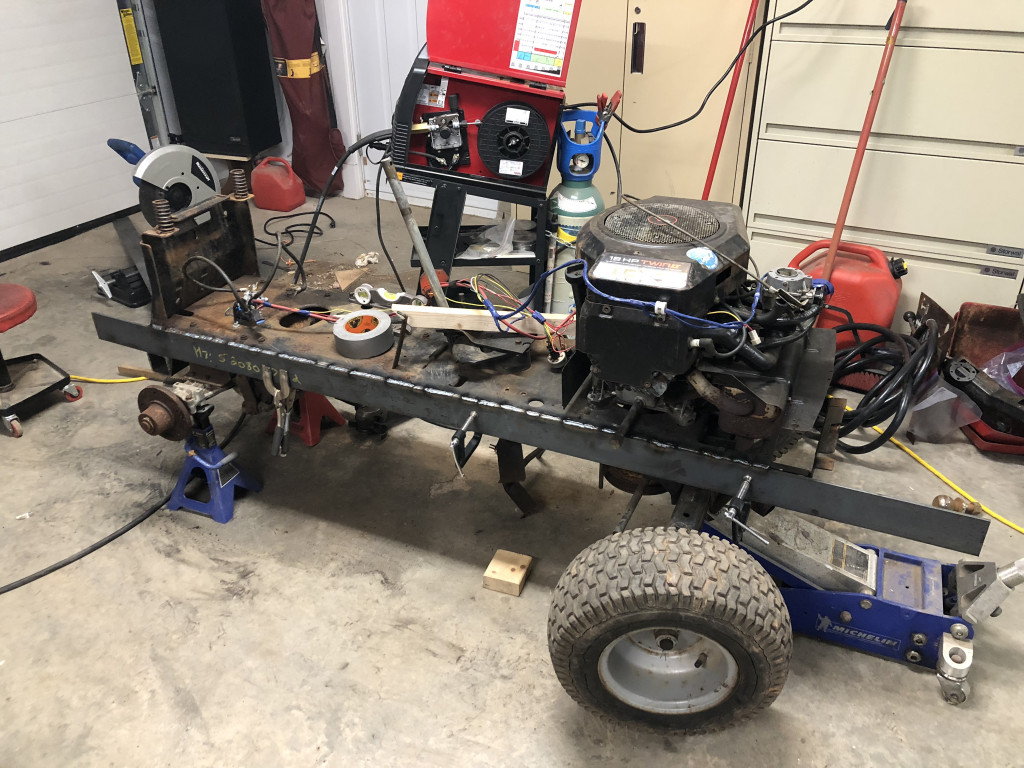 Since my back is ratched (blew it out on a MedEvac mission off sable island), I wanted something I could use as a "power wheelbarrow" and maybe dig a little bit. So I grabbed an old, rusty atv plow for cheap, built a lifting frame and turned the plow into a bucket: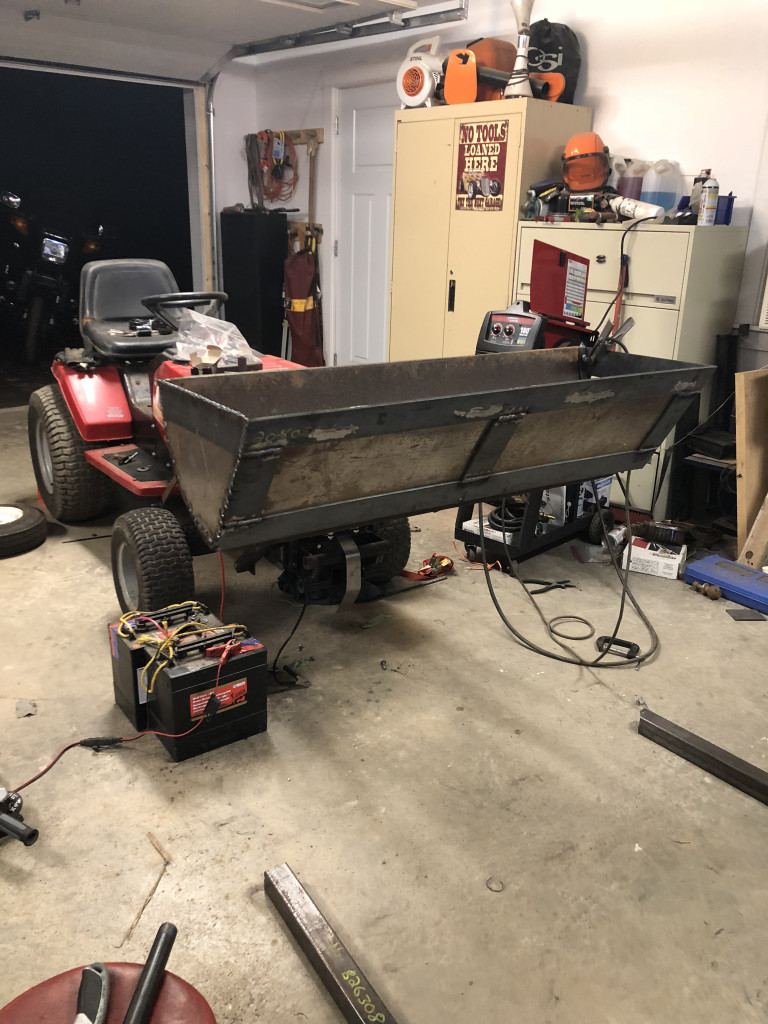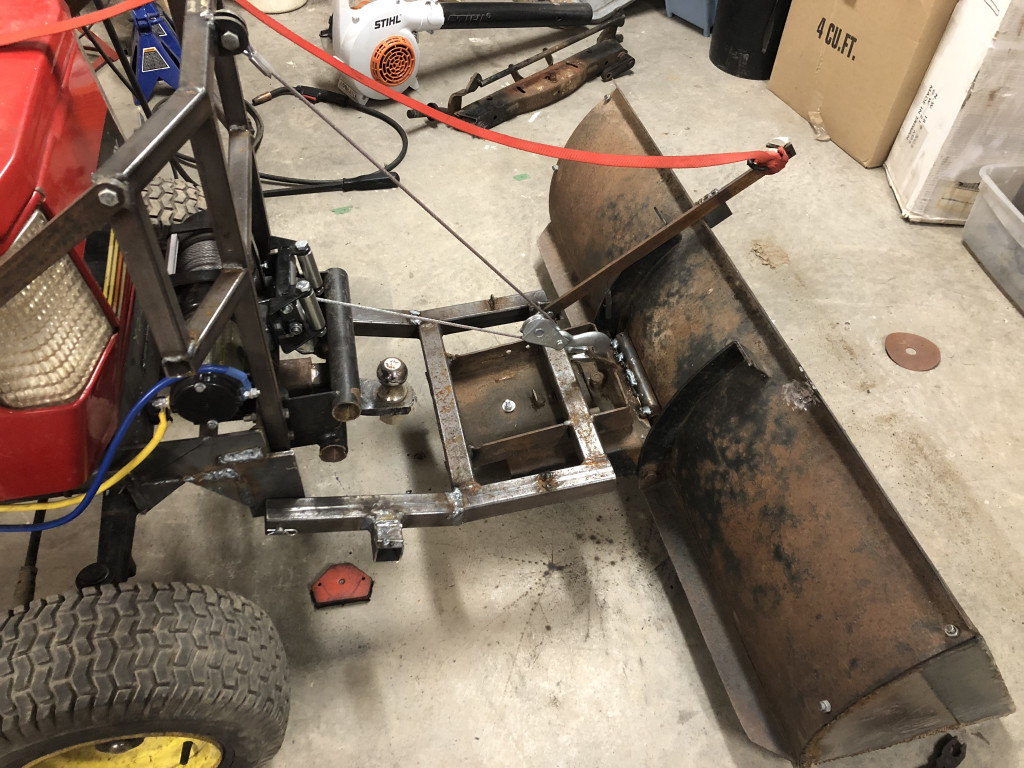 Used it like that for a while and it quickly became obvious that the stamped front axle was not up to the task. So I found a cheap JD axle on ebay and ordered it up: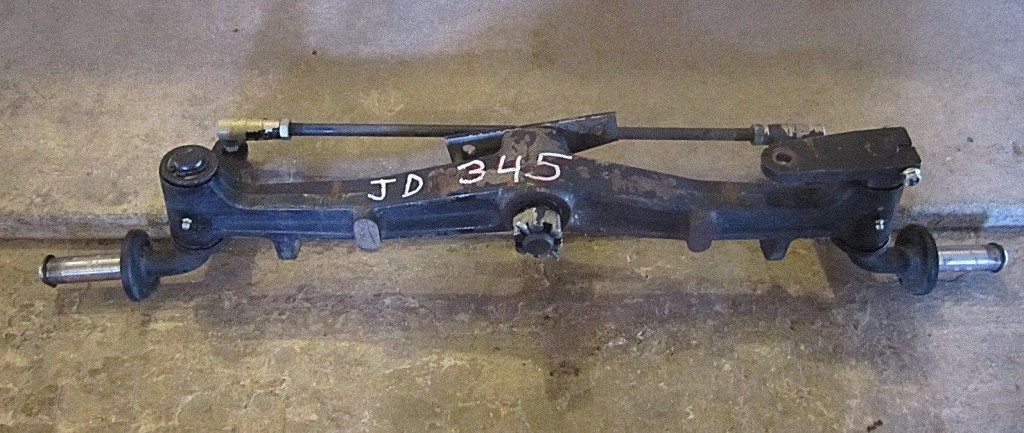 Out with the old: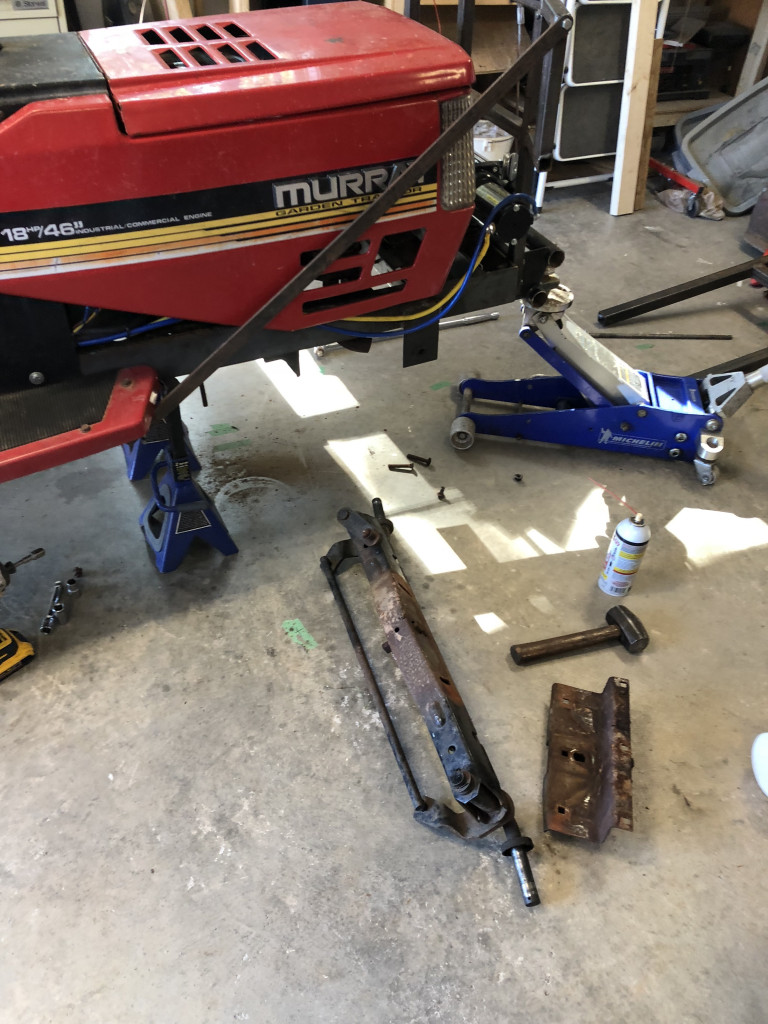 In with the new:
I also stretched the wheel base out about 9 inches by sliding the axle forward.
Some of our land is pretty uneven, so I added a ROPS and put it back to work: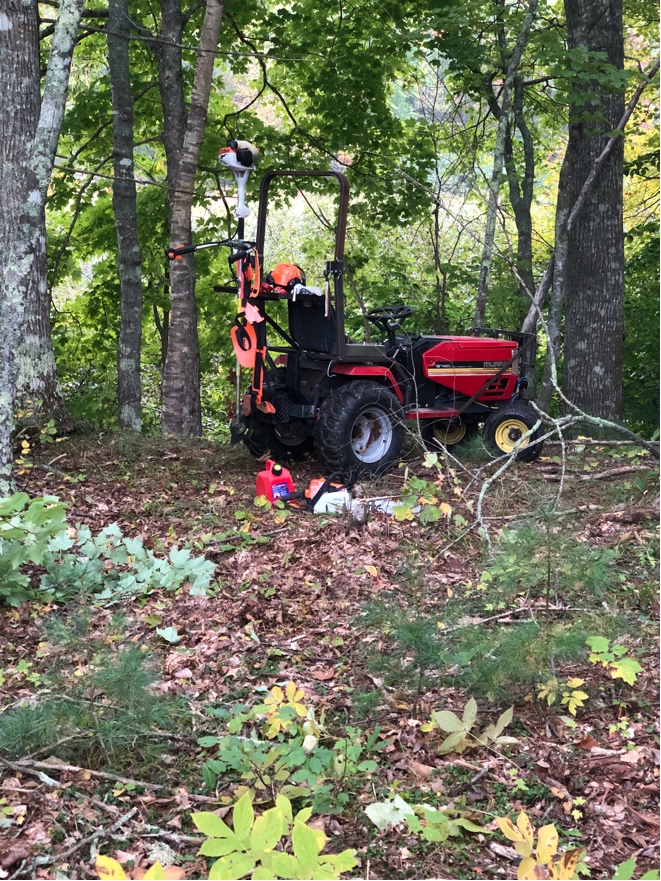 I also started adding sub systems, like lighting, gauges etc.
I made the bucket so that I could convert it back to a plow for winter. After a couple snow storms, I decided I didn't want to be exposed when plowing. So I needed a cab. But I'm inherently...."frugal"....and some overpriced store bought plastic and tube cab wouldn't do. I stopped by a local guys place who sells old windows and door and bought a couple aluminum screen doors for 25 bucks. A littel cutting, a little welding and:
Gave me tempered glass for the front and rear, which is what I wanted so I could scrape ice off it in winter (if need be).
Gave it a lick of paint: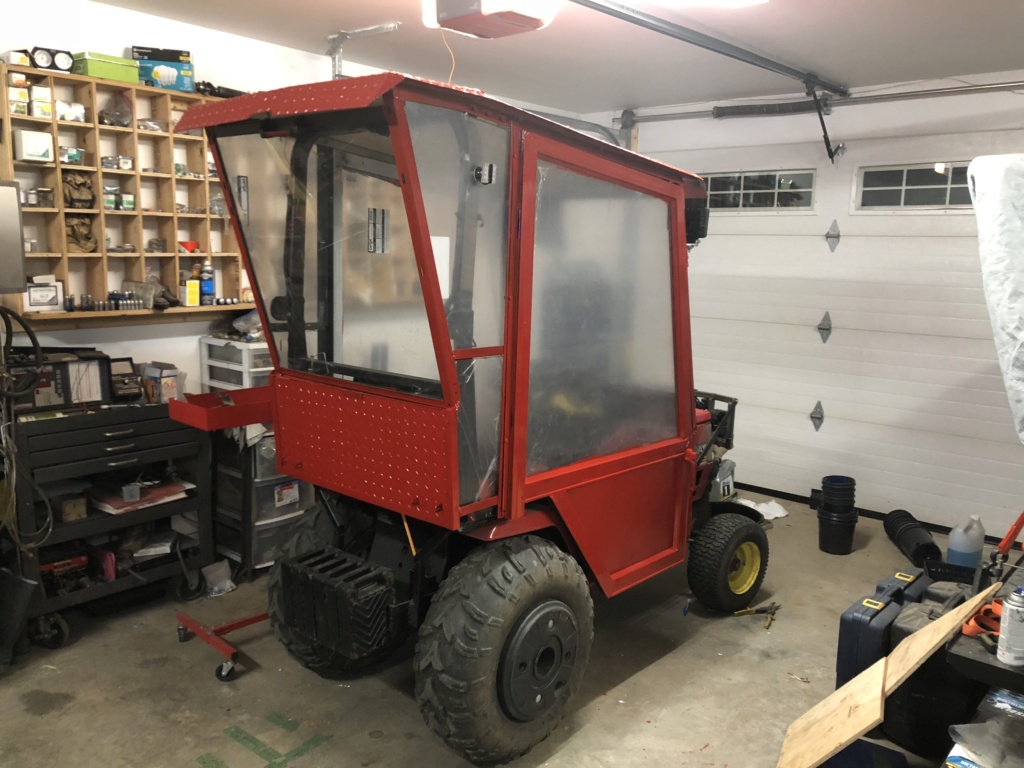 And used it like that for a while. Worked decently for the jobs I used it for and what it is.
But as I aged, the "lawn tractor" bits were getting to be a pita. That belt drive transmission was the biggest complaint. It's a peerless 820 (which is about a strong as it gets for a belt drive MST) so it was handling the work fine, but that stupid belt/clutch arrangement was unreliable in the sense that you never knew when it was going to grab. If it grabbed too hard, the whole tractor jumps forward, which was hell on my back. You could minimize that with playing with the throttle, but that was just one more PITB to deal with and it didn't always work. Shifting was always notchy and vague and I never really knew what gear it was in until it grabbed. I also was jonesing for a full hyd front loader, as well as a 3 pt hitch, etc.
So I decided to tear it down to the frame again. Since it wasn't really going to be a "Murray" anymore (keeping the Briggs 18 hp and the tins and that's about it) and considering I was going to stretch the front sheet metal, I thought a facelift would be in order:
Closed up those big "porch lights", stretched the nose aprox 4" and added the hood scoop over the engine air intake. The scoop is a practical thing, not cosmetic. This tractor is outside almost all year and the hood vent over the engine meant weather drops directly down into the engine compartment. The engine would get soaked in a rain, or packed in if it snows. I would have gone a little lower for aesthetics, but function trumps form and I didn't want to limit to ability of the engine to move enough cooling air. While I was at it, I added some JD hood hinges: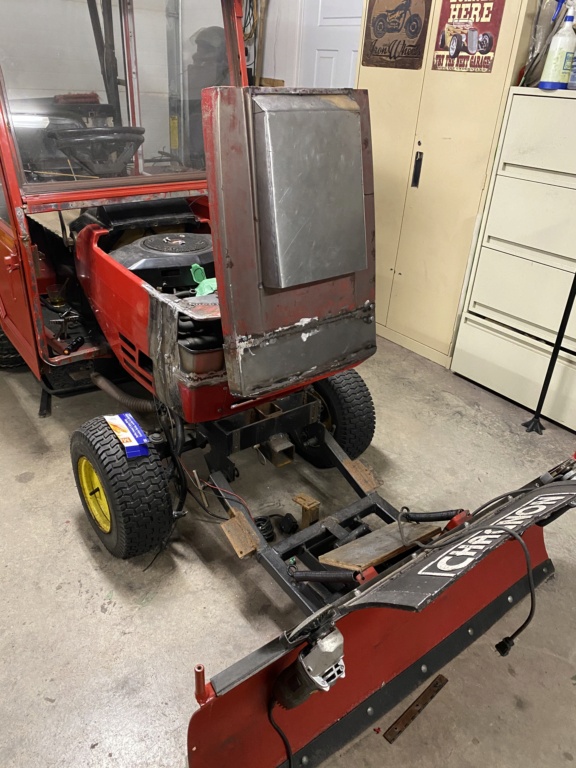 The hood originally hinged at the rear, which made it very difficult to do things like check the oil, etc. Now it moves completely out of the way for quick servicing.
The added length on the nose is for the next phase. Adding hydraulics. The sheet metal stretch would give me the room to mount the Hyd reservoir and the cooler below it. The pumps will go behind the engine and the valves will go where they need to/fit.
I plan to have two systems, pulling from a common reservoir. One for the CASE HyDrive and one for steering and lift cylinders.
For lift and steering, I went the easy route and sourced used JD318 parts. Made it simple for system layout: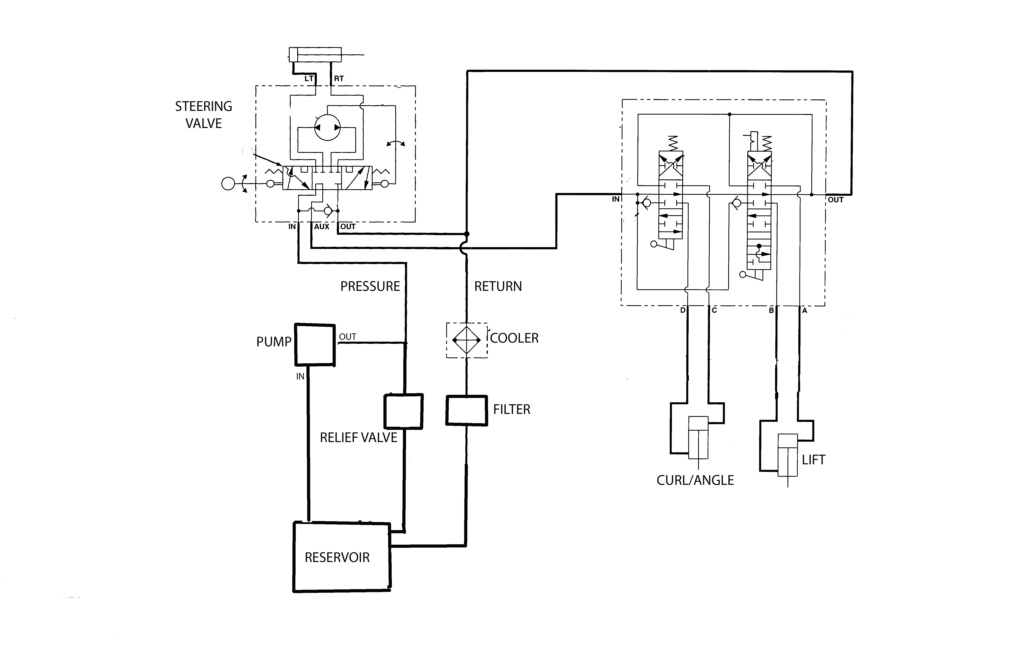 Basically, I just use the JD system "as is" and add a pump since its not a hydrostatic drive.
For the drive, I'm using Case 220+ parts. Another nice, simple, self contained system.
Reservoir I will TIG up out of some 1/8" aluminum sheet, as I will a gas tank that will be relocated under the seat. The electrics will go in the steering pedestal wher ethe fuel tank was originally located. Fuel tank had to be relocated to give room for the JD steering, hydraulics, lines, etc. That also left enough room to fit the battery, solenoids, etc in the pedestal.
So a few days ago, the tractor was torn apart again and I started initial mock up of layout and locations: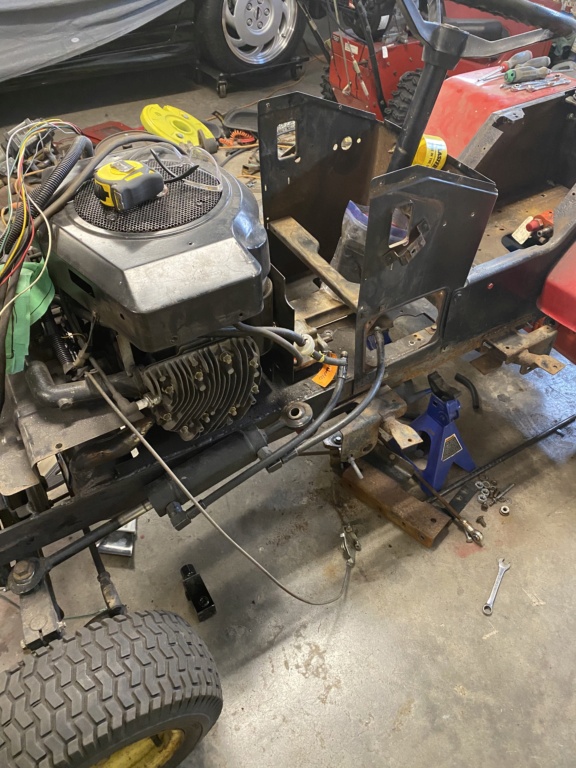 Laying out the JD steering system. You can see the ram and the Sector valve is built into the steering column.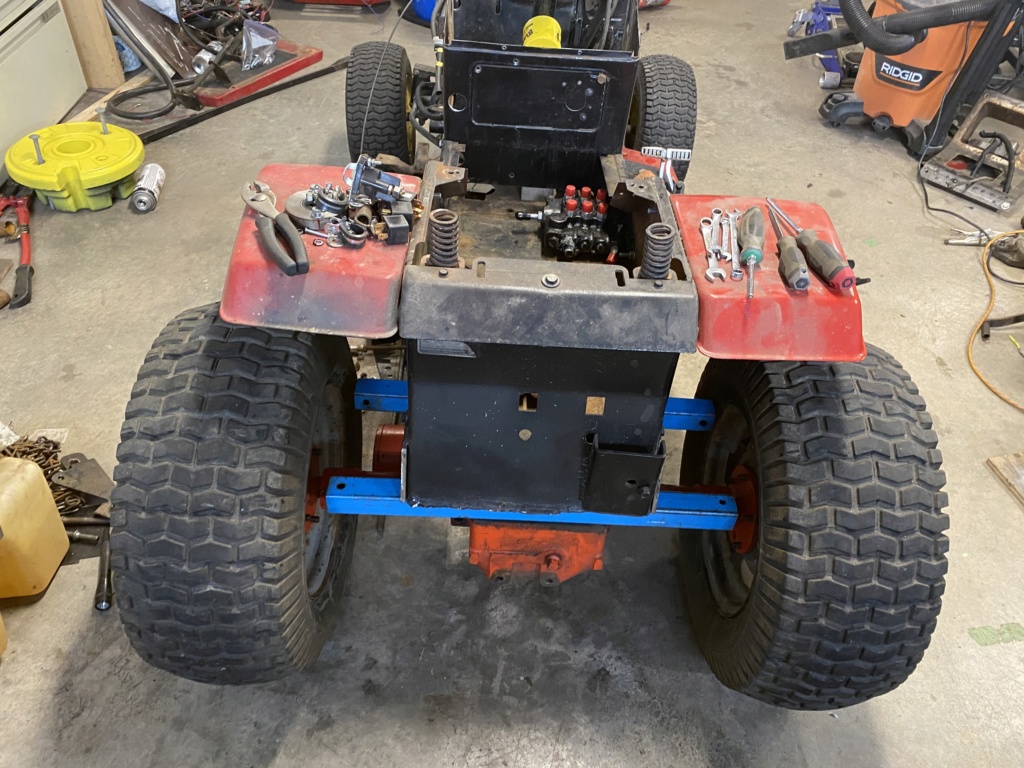 Rear axle mock up. Added a little width to the track width, but that's not a bad thing for loader work and my uneven yard. The blue pieces are just there temporarily until I fabricate proper brackets.
So that's where it sits today. Lots more work to be done, but will be worth it in the end. Looks like I'll have a couple grand into it, but I'll have what I'm looking for in a tractor that's smaller than a SCUT but bigger than a ride on.
You might ask why not just buy a GT to start with? Well, they never show up used here and if they do, they're overpriced and worn completely out. This "Mud Mower" craze also has kids snapping up anything that comes up and butchering it into...well..."Mud Mowers". What usually end up happening is they grab something that is "saveable" and alter it to the point it's messed up and then they beat on it until it dies. There's a couple guys that troll the want ads daily and scoop up anything they can find in Province. Makes it hard to find anything affordable that 's used because it's usually gone within an hour and ends up sitting in someones backyard "junkyard" until it gets hauled out for "The Sacrifice".
New, about the only option is the JD 7XX series and you're looking at 20-25G to get into one and I don't think you can even buy a loader for it. You'll still have to build (or adapt) one.
I'm also thinking about adding a cutting deck to it and I have a 42" dual stage blower that I had on it for a while. Cutting deck will just use the belt PTO, but I'd like to "hydraulicize" the blower. Those are project for the future though. Hydraulics, loader and 3 point hitch comes first.
Building my own is pretty much the only "affordable" option I have. But I've got the tools and I've got the skills, so it also gives me a project to keep myself busy with.
And there's also that sense of satisfaction that comes from using something you built yourself.