Discussion Starter
·
#1
·
There has been some discussion lately about hydraulically motor driven attachments. Over time, repairing/replacing these motors is becoming more difficult. For example, I have an HRM48H 3 point finish mower. It is an early unit (J.S. Barnes motor - no case drain). The motor recently had an oil leak and I found out my motor is obsolete and NLA. Parts are NLA. Later motors are available (I would need to add case drain), however, they are also obsolete, expensive, and parts are NLA. A local hydraulics shop replaced o-ring seals and used a liquid gasket material in place of the OEM carrier seal (everything works OK as of today). But, all this has me thinking about motor longevity and future options for repairs/upgrades.
So, here is the question. Is it possible to increase longevity by adding a check valve in parallel with the motor to reduce some of the stresses (especially a sudden shutdown)?
The following diagrams illustrate the concept.
Diagram 1 shows the combinations for hydraulic oil flow through the PTO.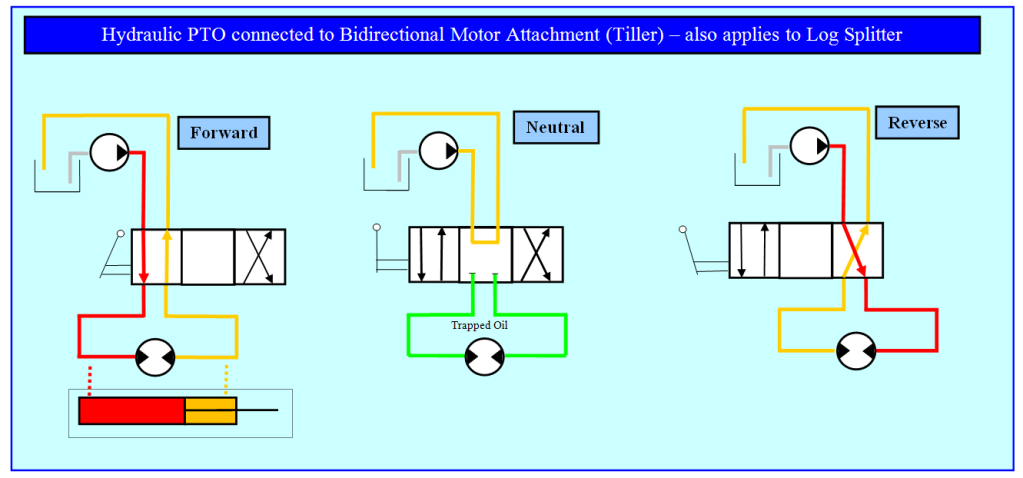 Diagram 2 shows flow through a unidirectional motor (3pt Finish Mower, Hydravac, Hydracutter, Chipper/Shredder).

In this application, reverse should never be used (the PTO Handle Stop Bracket is installed to prevent reverse flow). To the best of my knowledge, an OEM unidirectional motor has a check valve to prevent reverse flow (please provide reference info if this is incorrect).
To minimize stresses on the motor, it is recommended that operators reduce engine RPM when starting, or stopping the motor. Because of the inertia of the high rotating mass, suddenly shutting off the mower under high RPM (Forward to Neutral) puts a lot of stress on the motor. The mower blades continue to spin, which, in effect, turns the motor into a pump. However, the A/B ports are hydraulically locked. This means the motor must have some internal mechanism or case drain to allow fluid to move and dissipate pressure without blowing seals.
Which brings me back to the original question. Would a one-way check valve installed across the motor ports help protect the motor?
Figure 3 shows the check valve.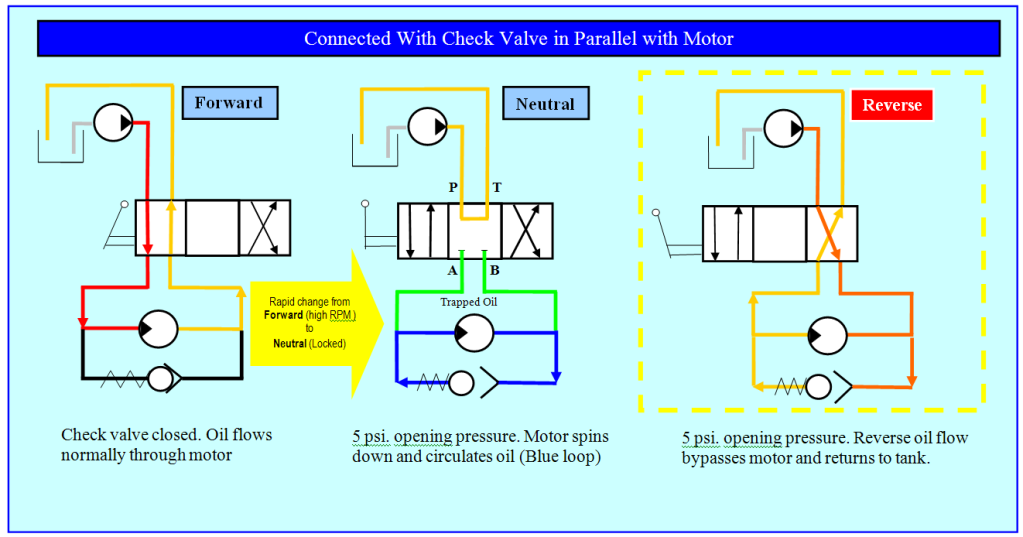 Forward
This valve has no "soft start" affect on the motor (I'm still working on that) so, for now, the best options is to reduce engine RPM before engaging the deck.
Neutral
However, look at the second example. When the operator moves from Forward to Neutral, ports A/B are hydraulically locked. With the check valve, the motor could continue to rotate and pump oil in a closed loop (blue arrows). This would allow the motor to wind down slowly and minimize pressure issues.
Reverse
Also, if the lever were inadvertently put in Reverse, The valve would allow the hydraulic oil to circulate back to the tank.
I realize that if I have overlooked some fundemental law of physics, the outcome might not be pretty.
Thoughts?