As promised a while back, I finally got my shop cleaned up enough to take some pictures.
My shop occupies one half of my walk-out basement. 24' long, 16' wide. Within that space I have to keep all my tools, all my supplies, and any of my raw materials that can't be stored outdoors.
To complicate matters, I don't have enough sense to choose one area of craftsmanship and concentrate on that single one. I like to get involved in "all of the above": woodwork, steel work, machining, plumbing, electrical, carpentry, masonry, mechanics, electronics, hydraulics, and even sewing. As you can imagine, a lot of them don't mix well. Fine woodwork can be ruined by a tiny bit of sulfur cutting oil, and an electronic circuit board doesn't like to be contaminated with metal filings/grinding dust. So it can be tricky juggling all the tools and raw materials in a single small space.
But it's probably an overall blessing, as I have poor habits when it comes to making messes. I'm a packrat by nature, and I'm perfectly comfortable surrounded by piles of debris. I'm not a hoarder. But I could turn into one if I'm not real careful. So at least the overall scope of my mess is limited by the size of my workshop.
With that introduction, here we go:
Standing at the bottom of the stairs, looking southwest toward the carriage doors:
Turning to the right, there's a workbench along the west wall. Across from that workbench is an island composed of the lathe, the mill, and a series of cabinets with a workbench on top of them.
Walking around the island counter-clockwise:
Standing at the workbench near the big vise, looking across the open "workspace" area, we have the 18" bandsaw and the mobile welding cabinet. The welding cabinet contains the TIG/arc welder, welding supplies, the big argon gas bottle, the little plasma cutter, and associated things. The frame of the electric shop press is hinged the to side of the welding cabinet, and swings open/away from the cabinet when in use. My 12" and 24" wood lathes are stored back in that corner, standing on end. And you can just see the anvil on its stand, which can be dragged to wherever you want to use it.
Looking toward the island workbench we have the port-a-bandsaw that I keep mounted in a stand, and the various drawer cabinets of small parts/tools/fasteners. Some are repurposed office cabinets, some are custom made. But they work very well. I have a fairly large volume of very many different types of objects, and this keeps them both compact and easy to access/find.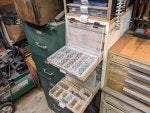 One strategy I've found effective to make the best use of space is in utilizing overhead storage a lot.
I have several seldom-used powertools hanging from ceiling joists, and I just pull them down to use them, and hang them back up when I'm done.
And I keep all my long lumber and some pipe/conduit/allthread in two different overhead racks. They're completely out of the way, and they're pretty easy to see what you have and get access to it.
And for convenience, I really like auto-retracting cords/hoses. I have a retractable trouble light, a retractable air hose, and , though not retractable, I keep a heavy guage 25' cord coiled up and stored overhead. If you are going to make a habit of rolling thing around the shop, it helps to keep cords off of the floor when possible. And power tools are almost always used up higher in the air, and the cords are less hassle when plugged in from above instead of from down on the floor.
I took lots of pictures and I'll be posting a shop tour on my YouTube channel, but I suppose this will do for now.
Bob