Discussion Starter
·
#1
·
I teach a high school Small Engines class, where we focus mainly on 3-8 hp single cylinder engines...typically Briggs since they are in abundance... we've been able to take 8 out of 10 non-running push mowers that I've picked up for free/near-free on Craigslist, and have the kids dissassemble, wash, assemble, and trouble mowers succesfully in the past month, along with various labs (precision measurement, compression, decarboning, etc). They are just starting to bring in projects from home and excitement is high...
I bought another 78-446 off of craigslist on New Year's day... and the kids have been using that as a learning tool as well- like the inner working of the pto clutch, learning about compression testing...and when a kid has some down time, they've been grinding away at the wheel wells, engine shroud and metal surrounding the muffler, and learning how to paint. Many have been scouring the area looking for a high wheel tractor of there own...
Anyway...the reason for this posting....
The last two things I want to do to this machine are:
1- Add a travel control valve- which I should be receiving next week
2- Add a new dash decal, which I have...
In order to put the decal on, the steering wheel has (had) to come off...and the kids and I had one heck of a time. The one kid that makes me feel a little uncomfortable with his machine/shop skills (ie- Kids call him Rambo for being a little rough on things and is an individual that should learn to "measure twice, cut once". He insists that a big hammer fixes everything, etc...) Needless to say the steering wheel cracked, and I need to replace it...
If you look at the picture below- any tips on removing the large "nut-type" thing that was once inside of the steering wheel? The key was esentially fused/a peice of the large nut and virtually impossible to remove. Tried rigging a gear puller with no success. Eventually I (well we) took a grinding wheel to it to see if it could loosen it up below the key, and no such luck yet...please tell me this part is suppose to come off, right...and not stay on? the threads still are in good shape.
I've looked in the manual/files- and this looks nothing like what is pictured... I need some guidence/reassurance.
This sure has been more stubborn than most things I've ran across in a while.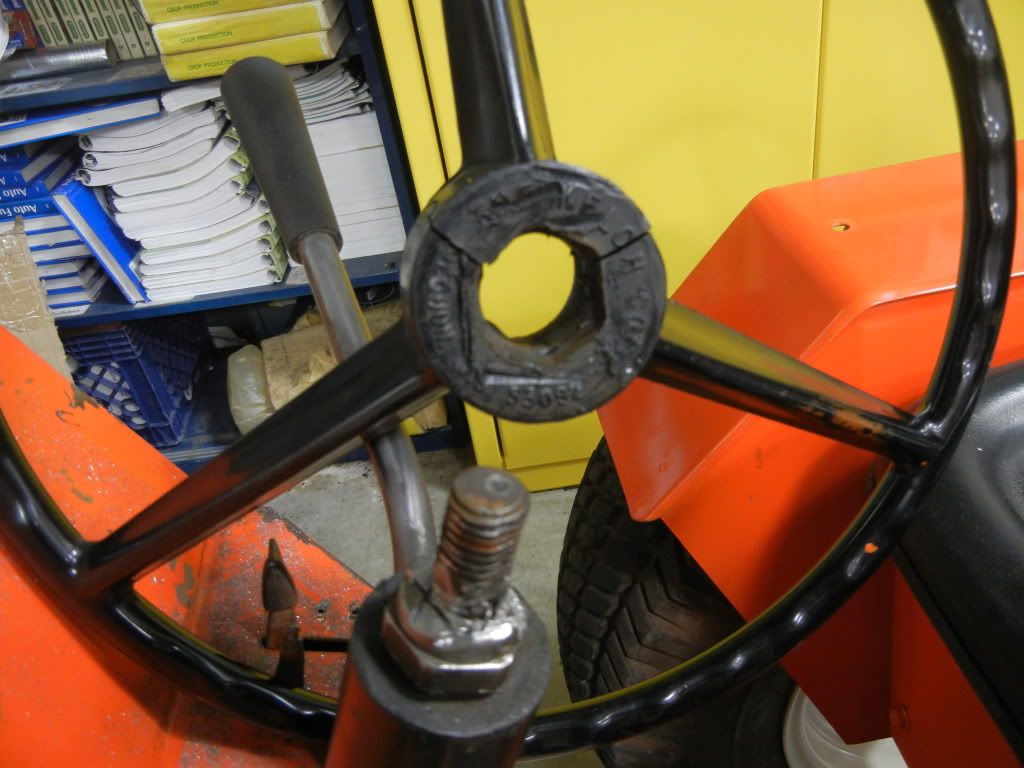 Looking for some encouragement, tips, ideas, and a steering wheel...
I'll share some photos when all finished. Thanks for helping my program & kids, and please support your local ag & vocational/tech ed programs. Some of you would make great guest speakers...
Thanks, I appreciate it.
Jason